Get RAMP server / seller trained online!
If you are interested in becoming a bartender in Pennsylvania, there are some important things you need to know. In Pennsylvania, certification for bartenders and alcohol sellers and servers isn't mandated by the state, but many - perhaps even most - licensees participate in the state's voluntary certification program because of the safety benefits and other incentives that come with cooperation. For this reason,
you will need RAMP certification to get a job as a bartender or alcohol seller or server
at most businesses in Pennsylvania. The good news? It's easy to
get your RAMP license online.
It'll only take a short while to take our
online course
and you'll have the knowledge, skills and certification you need to work as a bartender.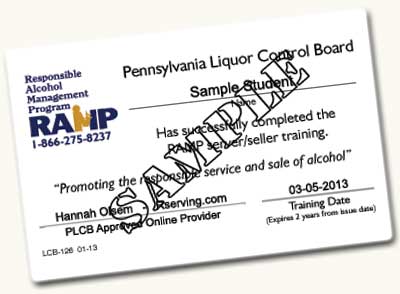 Legislation enacted June 18, 2001 established the Responsible Alcohol Management Program, which is a voluntary certification that provides incentives for licensees who participate and complete five components. One of these components is
server / seller training.
In order to fulfill these requirements, at least 50% of the licensee's alcohol service staff must complete an approved server / seller training. Included in that group is anyone who serves alcohol and/or checks IDs, as well as owners and managers. This percentage must be maintained at all times.

Employer Discounts
If you are an employer, you can set up a
FREE Employer Account
which makes you eligible to purchase training at a discounted rate for all your staff. This account gives you the ability to track your employees' progress, view or print their certificates, assign or revoke training, and much more.
When you sign up for an employer account, you can purchase this training for all your staff at the discounted price of only $7.95 per person*!
*Minimum initial purchase of 10 course tokens required.

If you are interested in becoming a bartender, our
Bartender Mixology Course
is a 40-hour course that will teach you everything you need to know to get a job as a bartender and wow your customers (and your employer) with your skills. Completing this course is comparable to attending a weeklong bartending class - at a fraction of the cost!
With dozens of videos, interactive quizzes, animations and text pages, this course is designed to produce great bartenders - and it does. We have trained tens of thousands of bartenders across the USA. Get your training started today!